These days, most modern people are likely to choose laptops rather than desktop computers because it is much easier to carry them anywhere for a business trip or meeting. Also, with the development of technology laptop performance shows to be equivalent to computer performance. However, there are weaknesses for laptop users. An insufficient connection port to other devices can be a cause of hesitation to purchase a laptop. Also, usually only one screen monitor is adaptable to one laptop. After all, some people who wanted to connect various display devices, TV and Beam Projector, to one laptop seek out the right gadget to relieve their stress.
CNS Power which is known as IT & Mobile Accessory released a new product called 'USB-C 11-in-1 Docking Station'. As you can see, this docking station has 11 different ports. So, if you have Type-C devices such as Macbook or newly released laptops, you will have flexibility at work or private business.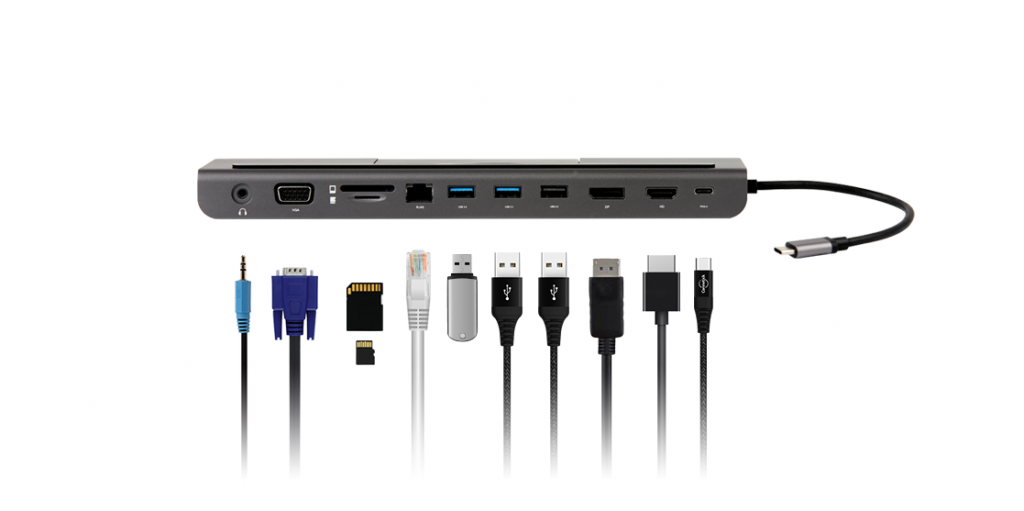 Specification
•Size/Weight: 260 X 89.8 X 22.1mm / 351.5g
•Material: Aluminum anodizing
•Power Consumption: Max 5W
•Input: USB-C
•Output: Display Port/ HDMI/ VGA / USB 3.0 X 2/USB 2.0 X 1 / Ethernet Gigabit RJ45 / USB-C PD / SD Slot &Micro SD Slot / 3.5mm Audio
Strengths of USB-C 11-in-1 Docking Station
•Laptop Stand supports you to type easily and discharge its heat
•USB with PD(Power Delivery) 3.0 offers fast charging and transfer-data
•Ethernet port allows directly connecting with Ethernet wire to use the internet for security or speed
To sum up, Connetick's Docking Station presents all ports in one device.